We are now signed up with the
"Thank a Vet" Discount Program
Any veteran who participates in the program
and shows his or her card will get
10% off purchases.
(Please show the card before purchases are rung up).
THRIFT SHOP HOURS
Fridays --3:00 pm to 6:00 pm
Fourth Friday - 3-8 pm
Saturdays -- 9:00 am to 2:00 pm
DONATIONS RECEIVED - Fridays from 3 to 6 pm; Saturday from 9 am to 2 pm
Tuesday - The store is not open but we receive donations from 9 am to 12 pm
There is something for everyone--clothes for women, men, and children, books, jewelry, many housewares, toys, a card shop, a section with new items, electronics, sports, shoes, puzzles, games, and much more.
Most clothes are $1.00 an item. Bag (plastic grocery bag) of clothes for $5.00 (up to 15 items in a bag). Great deal if you choose more that 5 items and they fit in the bag! There are some better brand and new clothes that are priced.
SOME OF OUR VOLUNTEERS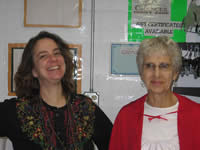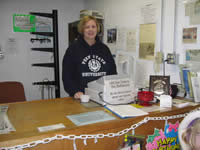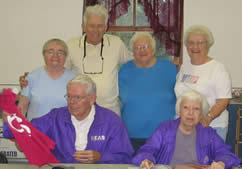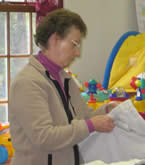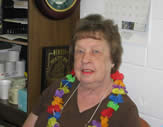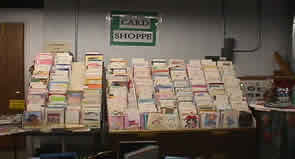 There's a section in the back of the store for patrons to enjoy free cookies, and coffee.
Donations are accepted upstairs on Friday from 3 to 6 pm, Saturday from 9 am to 2 pm or on Tuesday from 9:00am to 12:00 pm. We accept clothing, small appliances (coffee pots, toasters, etc.) and all kinds of household goods, linens, shoes, children's toys, puzzles, craft items, books, and jewelry.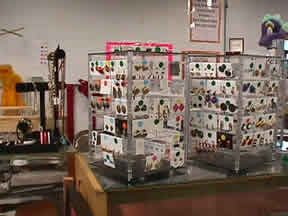 We do not accept large appliances, furniture, television sets, computers, typewriters, text books, technical books, VHS Tapes or exercise equipment. Our basement is not large enough for us to handle large items or out of date items. The entrance is on the west side of the building. We do ask that donations not be left outside the building at any time.
Our Return Policy: Returns are accepted for store credit only which expires within 30 days from the date of sale.
New items are added weekly. Mount Joy's Fourth Friday will also be our "Special Sale Day" both inside the store and outside (weather permitting). So stop in and see us.
THERE'S A BOOK AREA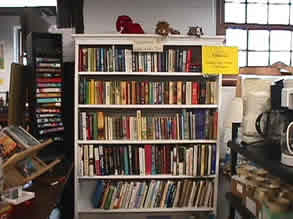 AND MUCH MORE!!!!!!!!!
The church is located at the junction of Routes 772 and 230 (Marietta Avenue and Main Street), across from the town clock. Turn in at Sassafras Alley ( west of the church) and you'll find limited parking behind the church.
ADA accessible.
WHO WE SUPPORT
NOTHING IS WASTED! When items can no longer stay in the store, we have a list of places and persons to whom they can be donated . We support Sunset Gap, a Community Center in Cosby, TN and Midnight Run, a mission to the homeless out of Dobbs Ferry, NY, The Pregnancy Center in Columbia, PA, Lancaster County Mental Health Court, Mount Joy Helping Services, FAITH Homes of Donegal, Mount Joy Food Bank, Mount Joy Furniture Bank, NGA (Clothing Charity), Donegal School District, Military Order of the Purple Heart, Domestic Violence Center of Lancaster (Div. of CAP), Lancaster County Probation and Parole, Columbia Veteranarian Hospital, Rainbows End Youth Services. We also donate locally to churches in the area, and to local families when we are notified of a special need.
We have helped the Kiwanis Clubs in the area collect shoes and donated 1600 to the drive.
RADA
We have a RADA display in the store. RADA is the stainless steel cutlery that has been popular for years and sold in churches as fundraisers. There are many items for you to look at and some are in stock so you can buy them right away. For others, we'll put in your order and notify you when it comes in. The turnaround time is usually about two weeks.