Thank you for visiting our website. We welcome you to join us for worship service any Sunday at 10:00 am.
2014 marked our 175th anniversary. Thank you to everyone that joined us to help celebrate this special year!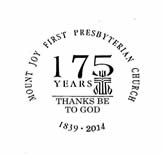 **If you have our page bookmarked, please remember to refresh your browser for updates**
Upcoming Events
Regularly Scheduled Events
Traditional Worship Service - Every Sunday @ 10:00 am
Second Chances Thrift Store- Open Fridays 3-8 and Saturdays 9-3
AA Group Meetings - Wednesdays at 8:00 pm
*See our calendar for more information. All events at First Presbyterian Church of Mount Joy unless otherwise noted.
7 Marietta Avenue
Mount Joy, Pennsylvania, 17552
Phone: (717) 653-5888
Rev. Sarah A. Kneier
Worship Service 11:00 AM (September-May)
10:00 AM (June-August)
Strength for Today Ministry-(717) 653-4636
PROUD MEMBERS
The Donegal Presbytery
The Presbyterian Church(USA)